I'm sitting outside in the glorious sunshine to write, after spending the first part of the afternoon soaking up the long-awaited warmth of spring during a long walk. Everywhere I look today, people seem to have suddenly sprung to life: kids are flying gleefully on bikes down sidewalks and tossing basketballs into nets; neighbours are standing and chatting together in relaxed, happy clusters on driveways; joggers and dogs are out for an enjoyable afternoon run. It's as though a weight (equal to a heavy coat and a pair of boots) has suddenly been lifted from everyone's shoulders, and we're all remembering how wonderful it feels to breathe freely and deeply again.
Today seems like a perfect day for a spring edition of Worth Keeping in Your Pockets. These are some of the pretty, fun, useful, inspiring things we've been liking around here lately.
Handmade Beaded Jewelry:
My talented friend Jutta creates beautiful European style beaded jewelry in a rainbow of colours, and she has recently opened up
her own Etsy shop
. I'm really excited to share her work with others, as I have a few of her handmade pieces myself and truly love them. Her necklaces, bracelets, earrings, and rings are unique and add flair to any outfit. If you'd like to keep up with the pretty new pieces Jutta is designing and crafting this spring, you can follow her
European Style Beadworks
page on Facebook.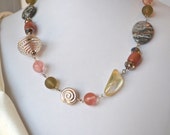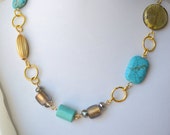 Ice Cream Makers:
For Easter this year, I decided to give the boys each their own mini
Zoku ice-cream maker
, suitable for quickly creating one delicious single serving at a time. The process involves adding five ounces of homemade ice cream mix to a pre-frozen metal bowl insert, and stirring and scraping the mixture in the bowl for about ten minutes. The result is an almost instant soft-serve, or you can freeze the ice cream after stirring if you prefer a harder version. We haven't had a chance to try out these ice cream makers yet (Noah and Will have been busy with swim meets and dance competitions this week), but I've read many good reviews for them, and the boys have been excitedly dreaming up their own flavour possibilities since last Sunday. I like the idea of homemade ice cream so that we can choose our own ingredients and stick to healthier options. I'll report back once we've tested these out!
Singing Sisters:
Perhaps you've already heard of
Lennon and Maisy
, Canadian born sisters and a musical duo whose recent lovely cover of the song
Boom Clap
has been playing on
Songza
. I love these girls' harmonious voices, and the obvious joy they feel when they sing together can't help but make listeners feel good, too. This sweet version of That's What's Up is one of my favourites of their covers:
I'm so glad these girls are sharing their bright talents with the world.
Knit Dish Cloths:
We wash a lot of dishes in this house (because we do a lot of cooking and baking), so I'm always on the lookout for good, sturdy dish cloths that are up to the job and won't wear thin in no time at all. Sometimes that's a tall order, but my mom very thoughtfully sent me some dish cloths that she recently knit herself (thanks, Mom!!), and I have now declared them The Best Dish Cloths Ever. They're thick and soft, they clean things up wonderfully, and they look pretty, too.
You can easily make your own dish cloths using Bernat cotton wool and this pattern of my mom's:
Cast on 39 stitches with 5 mm needles. (My mom says she likes to use short needles.)
*Knit 3, (purl 1, knit 1) to last 2 stitches, knit 2 *Knit 4, (purl 1, knit 1) to last 3 stitches, knit 3 *Knit 2 rows
Repeat this* sequence 11 more times, then knit 2 more rows.
Cast off and sew in the ends.
Wanting to have more of these super (and easy to make) dish cloths in a variety of spring colours just might inspire me to pick up knitting needles again -- it's been a long while!
Bird Homecoming:
Our mourning doves returned home last week after a long winter away. It seems a marvel, really, how these birds know to find their way back to the place where they were happy the summer before, even after travelling so very far from where they started. Their journey is always a nice reminder of "home" and what it means to me, where I came from and the wonderful people I'm lucky to call family. Call your folks, get together with your brothers and sisters if you can, enjoy the company of loved ones while the sun is shining. The changing season has already got me excited for my own happy return to home up north this summer.
That's all for now -- I'm off to relish the rest of this afternoon's blue skies. Happy spring (finally)!