June has arrived (June, already!!) and the next several weeks will be filled with fun activities as another year of school and extra-curriculars winds down. Amidst the hustle and bustle of practices, meets, performances, and special events, the boys and I have been thinking of how to show our appreciation for the dedicated teachers who have cared about Noah and Will, encouraged them, and helped them to grow in wonderful ways since last September.
Together we've decided on some thoughtful little gifts to give to them, chosen from a collection of ideas we've gathered over the years. The suggestions you'll find below have become some of our favourite ways to say "thank you", as we've seen the boys' teachers put these kinds of items to very good use. Perhaps if you're looking for an idea, one of these gifts will be just right for the special teachers in your own family's life.
(Click on the coloured text links to be taken to the websites where you can purchase these items.)
Personalized Stationery/Tote Bags:
A teacher's working life is filled with paper of all kinds, and a gift of personalized stationery adds a nice touch to all of the notes and details she or he needs to write down over the course of the school year.
Vistaprint
offers sticky notes, notepads, pens, labels, and more in a variety of designs that can be personalized with a teacher's name. Have your children each choose a design and colour scheme that they think their teacher will love (and you can also give the gift of a matching
personalized tote bag
for carrying all of those papers around!)
Charitable Gifts:
We've often thought it appropriate to show our gratitude for our children's educational experiences by giving a gift of learning to children elsewhere in the world. Through organizations such as
Free The Children
and
unicef
, we've been able to purchase gifts of school supplies for use in communities where education opportunities and literacy are scarce. After purchasing a chosen item from one of the charities' websites, simply print out a card describing the gift and your child's teacher will have the pleasure of knowing he or she has touched even more young lives.
LunchBots Containers:
Packing a lunch to take to school is part of the daily routine for many teachers, and today's schools are often quite conscientious about environmentally friendly food packaging. A gift of a durable and stylish
LunchBots container
is very practical in that it can be used by the teacher for years to come. Include a homemade treat inside if you like (maybe your child can help prepare it) and tie the container up with a ribbon for giving.
Key Fobs:
Colourful, practical, and unique, these
personalized key fobs
are the perfect thing for holding all of a teacher's school keys. The bright designs will help make keys easy to spot and difficult to get mixed up with other teachers' sets in the staff room. (There are a variety of different patterns and colours to choose from on this Etsy shop's page.)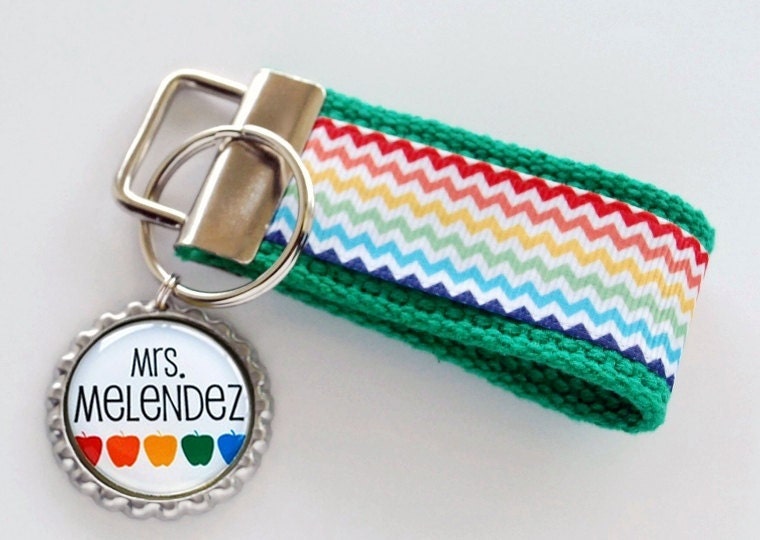 Book Store Gift Cards:
We love giving
Chapters gift cards
to teachers because they can use them in whatever way they choose, whether it be books for their classroom, books about education for professional development, or books for their own pleasure reading over the summer break. I think most teachers would agree that one can never have too many books!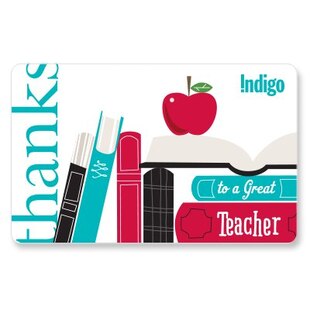 Silver Apple Necklaces:
Here is a sweet spin on "an apple for the teacher". This dainty
sterling silver apple necklace
(and other designs available on
Etsy
) are a pretty gift for a teacher who keeps the children in her care close to her heart. The two young women teachers to whom we gave necklaces similar to the one pictured below really loved them.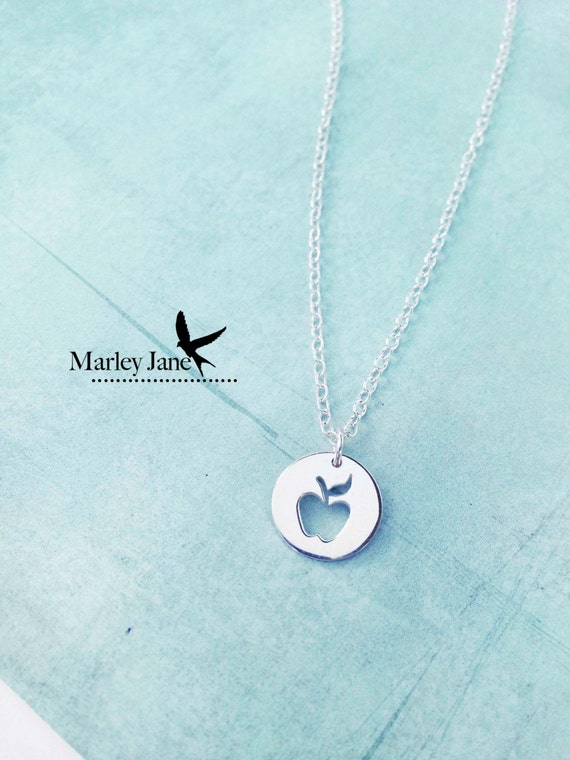 Probably one of the most appreciated teacher gifts of all is a heartfelt note from your child that shares what he or she really enjoyed about school this past year. (I still have the kind notes written to me by my former students from years ago -- their words of thanks were very meaningful to me.)
I hope all of the teachers, students, and families out there enjoy these last few busy weeks of school as we all look forward to summer holidays. :)