Hello there! Things have been all crickets around here lately, I know.... I hadn't really intended on taking a mid-summer break from writing, but the draw of the sunshine and the pool and the very enjoyable company of two funny, interesting boys has been too much to resist lately. I've become a little brain-lazy over the past few weeks, which admittedly has actually been a nice change from my usual status of brain-overdrive! But just to let you know that I haven't completely disappeared, I thought I'd pop in today and share some summery things with you in an August edition of Worth Keeping In Your Pockets. I hope you've all been enjoying a wonderful summer just as we have been.
Grilled Corn on the Cob:
We are loving the bounty of fresh summer produce available this time of year, both from our own backyard garden and from the local farmers' market. Everything just tastes so good! We've been lugging home bags full of ears of corn in recent weeks and preparing them in the most delicious way: by grilling them on the barbecue. If you've never grilled corn before, it's very simple: husk the corn, brush it all over with a little olive oil and sprinkle it with sea salt and pepper to taste, then place it on a grill that's been preheated to medium-high heat. Grill it for ten minutes, turning the corn every two minutes or so to cook it evenly on all sides. There will be no pots to wash afterwards, and the corn is tender-crisp and bursting with flavour when it's cooked this way!
Boyhood:
Matt and I saw the touching and true-to-life film
Boyhood
at a local theatre this weekend and we were both so glad we did. It chronicles the everyday yet significant moments in the life of a boy and his family as he grows from a six year old to a high school graduate. The really remarkable aspect of the movie is that it was actually filmed over a twelve year period, so viewers are watching the same boy grow up for real before their eyes.
Boyhood
really drives home just how quickly childhood passes; I left the theatre feeling wistful and wishing that I could slow the passage of time and the growing up of my own boys, one of whom turns thirteen this week. (Thirteen!!!) If this film is playing in a theatre near you this summer, it is well worth seeing.
Lavender:
We have lavender plants all over the place in our gardens; Matt and I both love breathing in its pretty and calming scent as we walk by. I'd like to have a reminder of this simple summer pleasure during the cold, snowy months, so I've cut fresh stalks of lavender to hang in the house to dry. I plan to use the dried flowers to make lavender sachets to tuck into clothes drawers or under pillows this fall, and to mix with oats or epsom salts for a soothing soak in the tub. Maybe you might like to remember to do this with your lavender, too!
Wind Chimes:
I've got my eye on this whimsical set of
spoon fish wind chimes
from
Etsy
as a lovely late-summer addition to our backyard garden. The artist has made such clever use of old spoons in this piece, and the smiling faces and sweet sounds of the little fish are sure to brighten up a quiet corner of the yard. I've been finding many unique and useful things while browsing Etsy lately; if you're interested, you can find my favourites list
here
.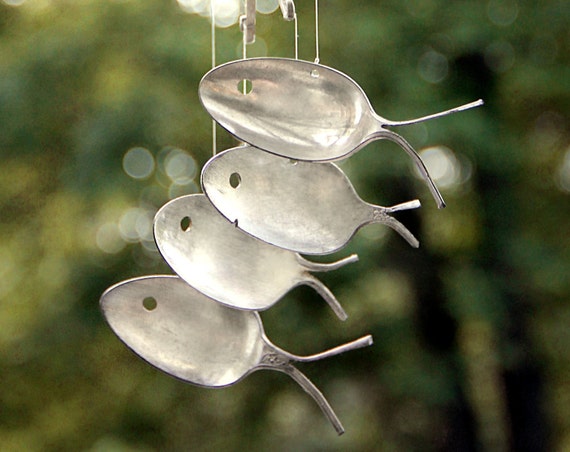 Stationary Bottle Opener:
It's always nice to enjoy cold beverages outdoors during the months of summer relaxing and entertaining, and this great little gadget makes it easy to find a bottle opener whenever you need one. If you mount this
cast iron stationary bottle opener
on your deck or on a convenient wall indoors or out, you can open bottles effortlessly. I gave one of these to my dad and we now have one of our own as well -- it's such a simple thing but a really great idea! A Handwritten Note:
We're still in full-on summer mode here, but we can't deny that a new school year will be here in only a few more weeks. We've been reading through a large package of information that arrived from the high school for Noah, and we soon need to go and purchase his school uniform for the first time. The idea of starting high school courses has Noah feeling excited and a little nervous, too, so it was a really nice surprise for him last week when he received a handwritten postcard from the principal of his high school telling him they were looking forward to seeing him in September. The personal note made him feel noticed and welcomed. In an age where electronic communication is faster, easier, and almost always the preferred method, I think it's good for all of us to remember that sometimes a good old-fashioned handwritten note can really make someone's day.
That's all for now! I'll be back again soon... Enjoy these last few weeks of August and the beautiful summer weather while it lasts. :)